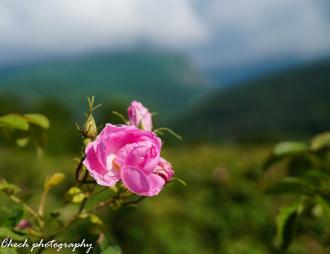 Obtained by water- steam distillation of fresh rose petals from Rosa damascena.
Contains 283 micro and macro components and waxes that make it unique compared with rose oil produced in other regions of the world.
The main components are citronellol, geraniol, nerol, linalool, fatty saturated alcohols, waxes, as well as acetates, free acids, aldehydes – fatty and aromatic ketones, phenols, phenol ethers, etc.
Bulgarian rose oil is widely used not only in perfumery and cosmetics, but also in pharmaceuticals – to create supplements that affect extremely favorable on all major functions and systems of the human body.
| | | |
| --- | --- | --- |
| № | PHYSICAL AND CHEMICAL PROPERTIES | RANGE |
| 1 | Specific gravity d2020 | 0,8539 |
| 2 | Refraction index n20d | 1,4595 |
| 3 | Rotation of polarization plane α20d | 2,90 |
| 4 | Congealing point, °C | +21,0 |
| 5 | Acid value, mg KOH/g | max 1,0 |
| 6 | Ester value, mg KOH/g | 7,12 |
| 7 | Content of esters such as acetylation | 212,30 |
| | | |
| --- | --- | --- |
| № | CONTENT OF MACROCOMPOUNDS, % | RANGE, % |
| 1 | Citronelol | 20,00 – 34,00 |
| 2 | Geraniol | 15,00 – 22,00 |
| 3 | Nerol | 5,00 – 12,00 |
| 4 | Phenylethyl alcohol | max 3,50 |
| 5 | Methyleugenol | max 3.00 |
| 6 | Eugenol | max 2,00 |
| 7 | Ethanol | max 2,00 |
| 8 | Linalool | max 2,00 |
| 9 | n-Paraffins (C17+C19+C20+C21+C23) | 18,00 – 25,00 |