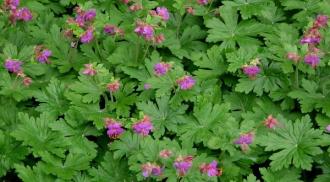 Obtained from the fresh ground part of the wild plant Zdravetz (Geranium macrorrhizum) through steam distillation.
Application:       
In perfumery, it constitutes the perfume base and compositions thanks to its good fixation capacity.
Composition:
Major component of this oil is the germacron which produces stearopteneq also other sesquiterpene ketones, sesquiterpene hydrocarbons, and alcohols, monoterpene compounds. Azulenes give the green color of the oil.
| | | |
| --- | --- | --- |
| № | PHYSICAL AND CHEMICAL PROPERTIES | RANGE |
| 1 | Appearance | semi – solid substance of slightly colored crystals and dark green liquid |
| 2 | Color | yellow green to dark green |
| 3 | Odor | typical of zdravetz |
| 4 | Density d2020 | 0.9380 – 0.9680 |
| 5 | Refraction number n20d | 1.5000 – 1.5190 |
| 6 | Freezing point, °C | 22 - 34 |
| 7 | Acid number, mg KOH/g | max 3,0 |
| 8 | Ester value, mg KOH/g | 7 - 15 |
| 9 | Ester value after acetylization, mg KOH/g | 25 - 55 |
| 10 | Total alcohols such as geraniol, % | 6.80 – 20.70 |
| 11 | Content of stearoptene, % | 41.70 – 52.80 |