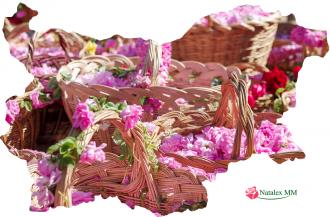 "NATALEX MM" Ltd. is a fast growing family company continued the long experience of its founders and Bulgarian century-old traditions in the production and marketing of essential oils.
"NATALEX MM" Ltd. has modern distillery, located in the heart of the Rose Valley. The modern facility has a big capacity and fully automated process that allows production of essential oils and natural aromatic water with high quality.
Today, "NATALEX MM" Ltd. builds its business by creating of own plantations for the cultivation of roses and lavender. This will allow to be closed the circle of production of flowers, its processing and sale of the finished essential oils. This will increase the competitiveness of the company, will ensure strict control of every stage of production.
"NATALEX MM" Ltd. works closely with number of Bulgarian producers of essential oils, which helps to increase the offered product range of the company.
The pharmacological properties and therapeutic applications of Bulgarian rose oil are very well known. On this basis "NATALEX MM" Ltd. invests in developing of innovative finished natural products with applications in pharmaceuticals, cosmetics, perfumery and food industry.
Our mission is to preserve and continue our long tradition in producing of high quality Bulgarian rose oil and essential oils.
We offer experience and style, a wide range of high quality products, flexibility and the best business solutions.